A TOTAL of 74 students have successfully been selected to receive the Penang Future Foundation (PFF) scholarships this year.
Chief Minister Chow Kon Yeow said the students were selected after the selection process concluded in September this year.
"The projected value of the awarded PFF scholarships this year stands at RM3.4 million.
"In its sixth year, PFF continues to award scholarships to outstanding and deserving Malaysian youths for them to pursue undergraduate bachelor's degree in the fields of Science, Technology, Engineering, Mathematics, Accountancy and Finance," Chow told a press conference at his office in Komtar today.
There are two categories of scholarships – the PFF Penang Scholar and the PFF Mutiara Scholar.
Chow said that out of the 74 successful applicants, 58 were from the PFF Penang Scholar while 16 were from the PFF Mutiara Scholar category.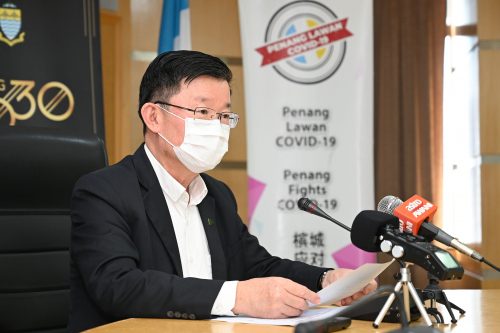 "This year, engineering recorded the highest number of successful scholarship recipients with 40 students.
"Forty-seven recipients are students of public universities while 27 are from the private universities," he added.
Chow extended his heartiest congratulations to the successful recipients.
"I was made to understand that it has been challenging for the selection committee this year. The pool of applications received nationwide has been rather competitive," he said.
Chow advised the recipients to remain firm in their commitment.
"This scholarship can help you in your journey to a brighter future. Remain firm in your commitment. Your areas of expertise will be essential for the state's growth.
"I hope that you will grow to be responsible adults and be leaders in your respective fields," he said.
Chow said the PFF has benefitted 585 scholars (including the 74 recipients) since its inception in 2015.
"PFF will continue with its goodwill to aid outstanding and deserving Malaysian youths to pursue tertiary studies in public or private universities in Malaysia," Chow added.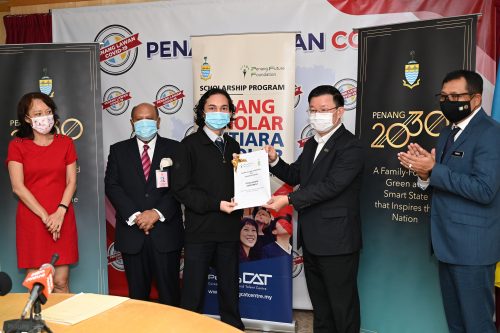 Chow (second from right) with other state reps posing for a photo with Naqib (third from left) in Komtar today
InvestPenang chief executive officer Datuk Loo Lee Lian, who is also the PFF committee member, said that in the past five years, PFF has benefitted a vast majority of students from the science, technology, engineering and mathematics (STEM) background as well as accountancy and finance.
"This is part of our efforts to bring in talents that are widely required to serve the various industries that have a greater say in contributing to the economy.
"As for this year, we have given more to students from the engineering background as well as information technology, accounting and finance as there are demands for it," she said during her speech.
She also added that the main condition for the recipients is that they must dedicate a certain number of years to work in Penang (depending on their courses); and not necessarily for the government only but can also be for any entity, organisation or factory.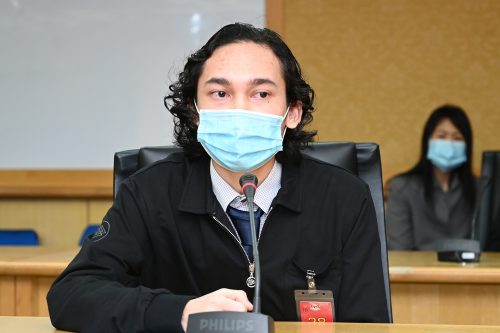 Naqib thanking the Penang government and PFF upon being selected as one of the PFF scholars
Due to the ongoing Covid-19 pandemic, all 74 students were not able to attend the press conference.
Out of the five students that were selected to be present, Muhammad Naqib Tasdiq Ahmad Adli, who is a mechanical engineering student, thanked the Penang government and PFF for the opportunity and vowed to play a role in Penang's transformation as a major hub for research and development of new technology.
"I aspire to become a mechanical engineer in the future and will definitely work in Penang to contribute my skill set in areas relevant to my field of work," he added.
Source: https://www.buletinmutiara.com/74-students-to-benefit-from-penang-future-foundation-scholarships-this-year/