PFF Bootcamp 2019 was held on 23 and 24 August 2019 at Olive Tree Hotel Penang. The main objectives for the bootcamp are:
To align scholars on PFF's objectives and State's vision, plans and programs
To develop the scholars through soft skills training eg: leadership and communication skills
To encourage camaraderie amongst scholars and strengthen the alumni bond
Various programmes had been arranged for the scholars during this 2 Days 1 Night bootcamp in order to achieve the objectives of the event. PFF Bootcamp 2019 started with concurrent site visits to Penang-based companies i.e. Intel and Vitrox, followed by an "Emotional Intelligence" training by Leaderonomics. Bootcamp participants were also divided into 12 teams to work on Bootcamp Challenge 2019 – "Realization of Penang2030", a project designed for them to develop a captivating public awareness campaign to promote Penang2030 vision as a family-focused green and smart state that inspires the nation to their fellow university mates.  After the elimination round, the top 4 teams were selected to present their projects during PFF Luncheon 2019 on 24 August 2019.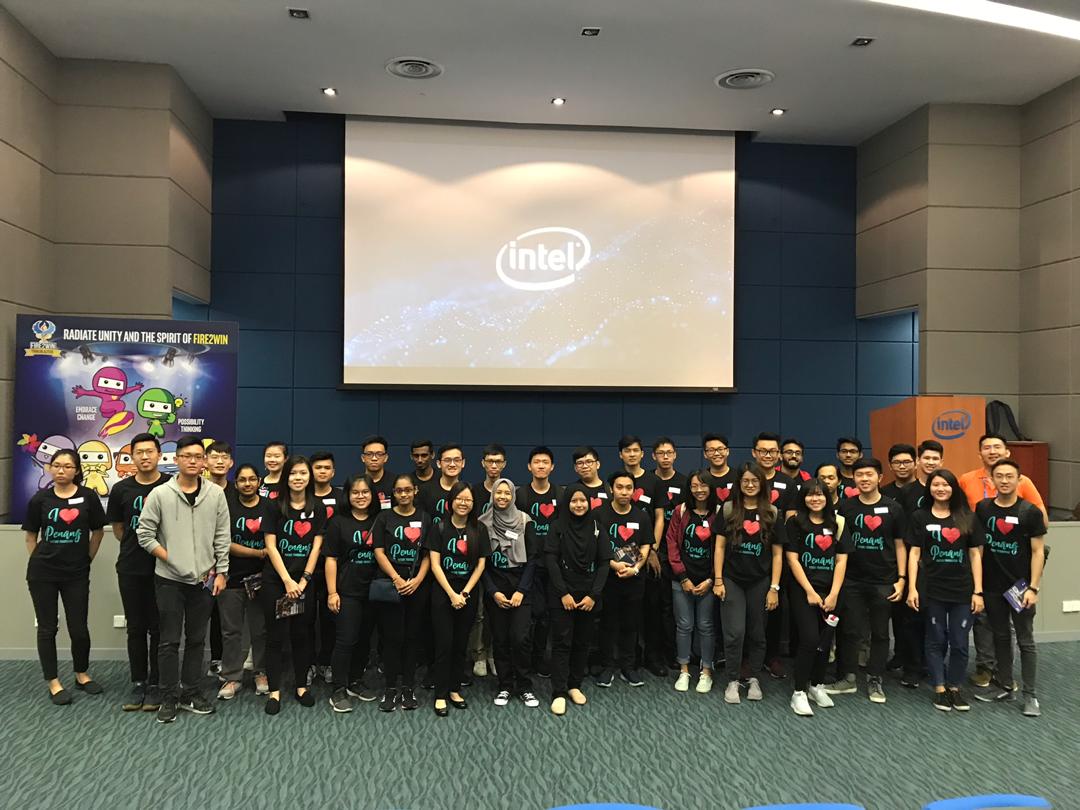 Site Visit to Intel
On the second day of the bootcamp, Mr. Ng Sang Beng from Aemulus Corporation Sdn Bhd was invited as a speaker to share on a topic "F for Fundamentals, Not for Fun".
The bootcamp concluded with PFF Luncheon 2019 hosted by Chief Minister of Penang, YAB Tuan Chow Kon Yeow to thank PFF Selection Committee members and co-interviewers/industry leaders in making PFF a success. All scholars, PFF Selection Committee members and co-interviewers/industry leaders, PFF Secretariat and invited guests had joined PFF Luncheon which was founded as a great platform for all to establish friendship and networking opportunities. PFF Luncheon 2019's itinerary included certificate-giving to 66 PFF Graduates, performances from PFF Scholars and networking session between industry players and PFF Scholars.
Once again, congratulations and well done to our 66 PFF Graduates:
Aaron Koe Zhen Yao – Bachelor of Engineering (Honours) Chemical Engineering, Universiti Tunku Abdul Rahman
Ang See Ping – Bachelor of Pharmacy (Honours), Universiti Sains Malaysia
Ang Wei Keong – Bachelor of Science (Housing, Building and Planning) (Honours) Construction Management, Universiti Sains Malaysia
Chan Jye Ming – Bachelor of Science (Honours) Cognitive Science, Universiti Malaysia Sarawak
Chan Swee Mei – Bachelor of Science (Honours) Actuarial Science, Universiti Kebangsaan Malaysia
Cheang Yeu Huang – Bachelor of Science (Honours) Environmental Technology, Universiti Sains Malaysia
Cheng Z-Ker – Bachelor of Computer Science (Honours), Universiti Sains Malaysia
Chong Ka Fan – Bachelor of Science (Honours) Applied Chemistry, Universiti Malaya
Choo Jie Liang – Bachelor of Engineering (Honours) Electronic Engineering, Universiti Sains Malaysia
Choong Chia How – Bachelor of Engineering (Honours) Mechatronics Engineering, Universiti Sains Malaysia
Fatin Nadhirah binti Abdul Aziz – Bachelor of Information Technology (Honours) Information System Engineering, Universiti Teknologi Mara
Fatin Nur Adilah binti Md Idris – Bachelor of Science (Honours) Geology, Universiti Malaya
Foo Kim Hui – Bachelor of Science (Honours) Industrial Chemistry, Universiti Malaysia Sabah
Foong Pooi Chee – Bachelor of Business (Honours) Accounting and Finance, Kolej Universiti Tunku Abdul Rahman
Galvin Ooi Yeow Boon – Baachelor of Engineering in Electrical and Electronic Engineering, University of Northumbria at Newcastle
Gan Xu Yang – Bachelor of Engineering (Honours) Electronic Engineering, Universiti Sains Malaysia
Hazwan bin Anuar – Bachelor of Engineering (Civil) with Honours, Universiti Teknologi Malaysia
H'ng Yap How – Bachelor of Science (Honours) Industrial Chemistry, Universiti Malaysia Sabah
Husema A/P Murugiah – Bachelor of Business (Honours) Accounting and Finance, Kolej Universiti Tunku Abdul Rahman
Isamuddin bin Mohamed Iqubal – Bachelor of Engineering (Honours) Materials Engineering, Universiti Sains Malaysia
Kang Huay Wei – Bachelor of Finance (Honours), Universiti Malaysia Sarawak
Khe Jia Ming – Bachelor of Science (Honours) Chemistry, Universiti Malaya
Khor Chia Yee – Bachelor of Science (Honours) Chemistry, Universiti Sains Malaysia
Khor Yee Shuan – Bachelor of Science Industrial Mathematics with Honours, Universiti Teknologi Malaysia
Koay Hui Ling – Bachelor of Science (Honours) Biohealth Science, Universiti Malaya
Kok Kian Yuen – Bachelor of Computer Science (Honours), Universiti Sains Malaysia
Lee Che Keat – Bachelor of Engineering (Honours) Mechanical Engineering, Curtin University
Lee Kah Wei – Bachelor of Science (Honours) Computing Studies, University of Northumbria at Newcastle
Lee Yuan Jun – Bachelor of Engineering (Civil) with Honours, Universiti Teknologi Malaysia
Liew Wei Chong – Bachelor of Medicine and Bachelor of Surgery (MBBS), AIMST University
Lim Wun Xin – Bachelor of Pharmacy (Honours), Universiti Sains Malaysia
Lim Yong Fong – Bachelor of Engineering (Honours) Electrical Engineering, Universiti Sains Malaysia
Loh Wai Kei – Bachelor of Science (Honours) Construction Management, Universiti Sains Malaysia
Loh Zi Ting – Bachelor of Science (Hons) Industrial Chemistry, Universiti Malaysia Sabah
Loo Ri Ying – Bachelor of Technology (Honours) Food, Universiti Sains Malaysia
Lukhman Nur Hakim bin Ahmad Ridzuan – Bachelor of Engineering (Honours) Electrical Engineering, Universiti Teknologi Mara
Muhamad Syazwan bin Md Aris – Bachelor of Engineering (Honours) Chemical Engineering, Universiti Sains Malaysia
Muhammad Daniel bin Haris Nasation – Bachelor of Sport Science (Honours), Universiti Teknologi Mara
Ng Kia Kheng – Bachelor of Engineering (Honours) Electronic Engineering, Universiti Tunku Abdul Rahman
Ng Tze Hong – Bachelor of Applied Science (Honours) Applied Statistics, Universiti Sains Malaysia
Nur Nasuha binti Bakar – Bachelor of Quantity Surveying (Honours), Universiti Teknologi Mara
Nurul Syahirah binti Asrul Effendi – Bachelor of Accountancy (Honours), University Teknologi Mara
Ooi Kean Lee – Bachelor of Engineering (Honours) Mechanical Engineering, University of Sunderland
Ooi Lim Seong Liang – Bachelor of Computer Science (Honours), Universiti Sains Malaysia
Ooi Yan Xin – Bachelor of Applied Science (Honours) Industrial Biotechnology, Universiti Malaysia Pahang
Ooi Yong Xuan – Bachelor of Nutrition (Honours), Management & Science University
Poornakala A/P Rathakrishnan – Bachelor of Accounting with Honours, Universiti Utara Malaysia
Seah Ciao Hern – Bachelor of Engineering (Honours) Mechanical Engineering (Automative), Universiti Malaysia Pahang
Seah Jia-Min – Bachelor of Science (Honours) Computing Studies, University of Northumbria at Newcastle
Seah Min Ni – Bachelor of Science (Honours) Computing Studies, University of Northumbria at Newcastle
Shantini A/L Chandra Logan – Bachelor of Business (Honours) Accounting and Finance, Kolej Universiti Tunku Abdul Rahman
Sim Chee Hoe – Bachelor of Computer Science (Honours), Universiti Sains Malaysia
Sim Jia Wei – Bachelor of Computer Science (Honours), Universiti Sains Malaysia
Sim Zhenzhao – Bachelor of Engineering (Honours) Mechanical and Manufacturing, Universiti Malaysia Sarawak
Tan Chong Gee – Bachelor of Computer Sains (Honours), Universiti Sains Malaysia
Tan Hang Yan – Bachelor of Engineering (Honours) Electronic Engineering, Unersiti Sains Malaysia
Tan Kean Hong – Bachelor of Engineering (Civil) with Honours, Universiti Teknologi Malaysia
Tan Ya Sze – Bachelor of Engineering (Honours) Chemical, Monash University
Tan Yuen Syan – Doctor of Dental Surgery, Mahsa University
Teh Shu Hui – Bachelor of Business (Honours) Accounting and Finance, Kolej Universiti Tunku Abdul Rahman
Teoh Yet Yi – Bachelor of Commerce (Honours) Accounting, Universiti Tunku Abdul Rahman
Thow Ting Ting – Bachelor of Accounting (Honours), Universiti Sains Malaysia
Tiew Soo Wei – Bachelor of Science (Honours) Architecture, Universiti Malaya
Trishal Ashvin Kaur A/P Ranjit Singh – Bachelor of Arts in Accounting and Finance, Asia Pacific University of Technology & Innovation
Wong Kah Liang – Bachelor of  Engineering (Honours) Electronic Engineering, Universiti Malaysia Perlis
 Yeong Choy Shan – Bachelor of Science (Honours) Applied Chemistry, Universiti Malaya